Music
I still need to update my website after Music Tech Fest so this is a quick post with the presentation materials:
Pythagorean Polyrhythmic Piano

Filed under: Music, Projects
|
Leave a

Comment
Last night I did a presentation at the Music Hackspace in London, talking about my process and demonstrating some of the mechanical, electronic and software elements that have gone into my pieces.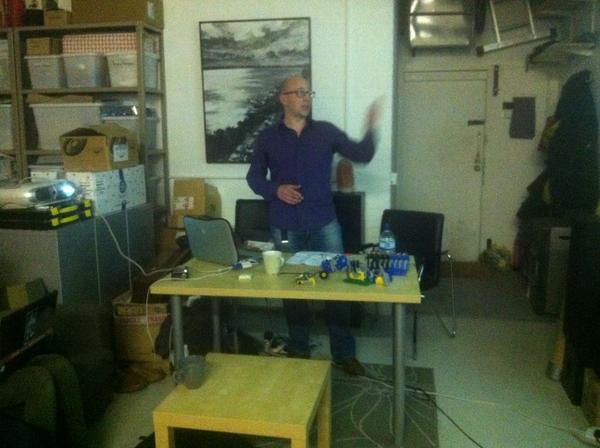 I've uploaded a zip of my presentation and some of the supporting files to my site, this includes some in-progress code and circuits which may be helpful.
It was great to meet the group last night, very chilled out and amazing stuff going on at the hackspace, with an spectacular workshop.
Filed under: Music, PhD, Projects
|
Leave a

Comment
Somewhere between putting off finishing my drum synth and lunchtime, a wave of bank holiday procrastination came manifest as rag:
Audio clip: Adobe Flash Player (version 9 or above) is required to play this audio clip. Download the latest version here. You also need to have JavaScript enabled in your browser.
Chords: G, B7, E, E7, A7, D9(?), G.  Also half speed G7, C, A7, D (slide up to 7th)
What ever D9(?) is, it's the chord that opens Clapton's version of Hard Times with a bit of extra pinkie action x54557.
Filed under: Music
|
Leave a

Comment
---
Recent Posts

Categories

Meta